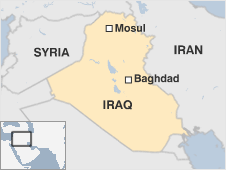 SANTA ANA, Calif., June 12, 2014 /Christian Newswire/ There is a massive exodus of Christians and people of other faiths fleeing from the city of Mosul in Iraq. A representative from the Christian ministry Open Doors in Iraq said,  "If this continues, Mosul soon will be emptied of Christians.
Some reports placed the numbers fleeing Mosul at 500,000 due to its seizure by the Islamic State of Iraq and the Levant (ISIS), an Iraq and Syria-based Sunni Muslim extremist group. Mosul is the second largest city in Iraq and former home to a significant number of Assyrian Christians. ISIS has now reportedly vowed to take over Baghdad.
Many of the Christians are fleeing with only the clothes on their backs to Kurdistan, an autonomous northern part of Iraq and considered a safer place.
"The Islamist terrorists want to make Iraq a 'Muslim only' nation and as a result they want all Christians out," says Open Doors USA President/CEO Dr. David Curry. "The situation for Christians has deteriorated each year over the past 10 years. Iraqi Christians have faced kidnappings, threats and even death for being followers of Jesus. And they have little faith in their government to provide security as we see in the tragedy unfolding this week."
The Open Doors representative for Iraq says that some of the Christians have found temporary shelter in nearby monasteries and in several schools in mainly Christian villages.
"When this goes on like this, Mosul soon will be emptied of Christians," the Open Doors spokesman says. "Until Monday an estimated 1,000 Christian families still lived in Mosul." A Christian man in Mosul told World Watch Monitor (WWM) that he "was able to make my wife and children leave Mosul, but now I am stuck in the house and can't move."
The crisis worries many Christians in Kurdistan. A Christian refugee working in Erbil, an hour's drive from Mosul, told WWM: "What is happening in Mosul now can badly affect our stay as refugees here in Kurdistan as some ISIS militia come from Syria. I hope this will make the United Nations work more on our papers for emigration and allow us to travel abroad as soon as possible; we applied to migrate to Europe."
In the 1990's the Christian population in Iraq was estimated at over 1.2 million. Open Doors places the number now at around 330,000.
Iraq is ranked No. 4 of 50 countries on the Open Doors 2014 World Watch List of the worst persecutors of Christians.
The Open Doors ministry in Iraq includes trauma support, biblical training for church leaders and Muslim Background Believers, distribution of Bibles and Christian literature, community development projects and working with Internally Displaced Persons (IDPs) in Kurdistan.
Prayer Requests: •The refugees will find a safe place to stay   •The Christians who still remain in Mosul will feel the peace only the Lord can give   •An end to all bloodshed and instability in Iraq
For almost 60 years Open Doors has worked in the world's most oppressive and restrictive countries, strengthening Christians to stand strong in the face of persecution and equipping them to shine Christ's light in these places. Open Doors empowers persecuted Christians in the areas of Bible and gospel development, women and children's advancement and Christian community restoration. Christians are the most persecuted religious group in the world and are oppressed in at least 60 countries. To partner with Open Doors USA, call toll free at 888-5-BIBLE-5 (888-524-2535) or go to www.OpenDoorsUSA.org.