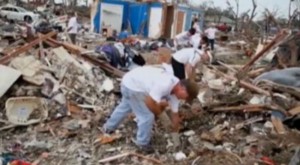 CBN's 700 Club Operation Blessing to Help Oklahoma Tornado Victims
You can use this link to donate immediately to their relief effort – Operation Blessing Tornado Disaster Relief  .
Operation Blessing coordinates its relief efforts through local churches.
Here is a story from the CBN news feed about their efforts in Oklahoma to help the tornado victims.
A team from CBN's Operation Blessing has already reached the Oklahoma area affected by Monday's massive tornado.
One volunteer described the destruction as a scene from the end of time.
One Operation Blessing convoy traveled Monday from Texas to Oklahoma City, and teams have already been briefed on the disaster there.
On Tuesday, the aid organization will connect with partner churches and agencies to coordinate relief efforts.
Operation Blessing has already spent the last week in Texas helping victims of the Granbury tornado. They've cleared trees, cleaned up debris and collected mementos for families like the Thompsons.          "The Operation Blessing volunteers, they were immediately able to start boxing up everything that was left," tornado survivor Josiah Thomson said. "We found baby pictures, pictures we thought we'd lost in the rubble. Within not even an hour, just boxes packed of our clothes and everything else here, obviously [cherished items] we couldn't have found on our own."
Thomson says God saved him and his wife and two babies the night of the tornado.
He had just changed jobs, allowing him and his family to attend church on the other side of the town.
"The tornado came through so quick, I heard no one had time to react, so if I was at work still and the kids and the wife (were) here I don't see how they would have made it being the destruction it is like this," Thomson said.
More than 500 Operation Blessing volunteers have helped families like the Thomson's this past week.
The group has partnered with dozens of churches from across Texas, and Jody Gettys, director of U.S. Disaster Relief for Operation Blessing, says they're offering both physical and spiritual help.
"We've also taken time in addition to the hard work, to do the 'heart' work, and that is to pray with people, to love on them, to encourage them because in such a devastating time not only do they need a helping hand, they need someone to come and let them know they're not alone," Gettys said.
Operation Blessing is also working with local community emergency response teams, and Home Depot has provided needed supplies.
Other Credible Links to Donate to the Oklahoma Tornado Victims