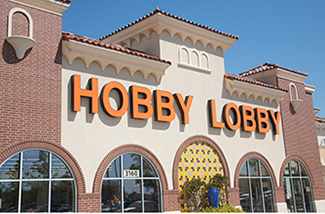 The Christian owners of Hobby Lobby will not be forced to provide abortion pills to employees against their religious beliefs. They also will not have to pay millions of dollars of fines imposed on them by the Obama administration for not being in compliance with Obamacare regulations. The Hobby Lobby owners had previously agreed to provide 16 other forms of contraceptives in their employee health plan. However, they refused to pay for the so-called contraceptive "The Morning After Pill"  that destroys a human embryo. They also refused to pay for IUDs that prevent a fertilized egg from implanting itself in the uterus (IUD). This comes from their deeply held religious belief that conception, and the formation of a human embryo, is the beginning of a human life and a gift from God. The legal argument that won the day was based on the Religious Freedom and Restoration Act (RFRA). The RFRA was passed by an overwhelming majority in Congress and signed into law by President Bill Clinton in 1993. This law was designed to prevent other laws that denied the exercise of religious freedom. The supreme court upheld this argument by a 5 to 4 vote. Basically, the Obama administration overstepped its authority in mandating that a closely held family corporation provide abortion drugs to its employees. The Obama administration had provided exemptions to implementing parts of Obamacare to hundreds of other businesses, but in this case it refused to do so until its actions against Hobby Lobby was ruled unconstitutional by the court.
Here are a couple of links for more details:
Supreme Court decision-Government can't force Hobby Lobby to provide abortion drugs to workers.http://ow.ly/yBR0x 
CBN story with videos and analysis by experts http://www.cbn.com/cbnnews/us/2014/June/CEO-Hobby-Lobby-Case-Strikes-at-Heart-of-US-Life/
Here is another unrelated recent Supreme Court victory for free speech and religious freedom. This elderly grandmother had her day in court. She won a great victory against the government restrictions aimed at abortion sidewalk counselors like her. This US Supreme Court unanimous decision strikes down buffer zones around abortion clinics.
http://www.washingtontimes.com/news/2014/jul/1/quiet-grandmother-wins-one-free-speech-supreme-cou/
http://aclj.org/us-constitution/a-day-of-victory-at-supreme-court …